GB/historical Police Badge + Policeman Los Ange. Police, Hallmark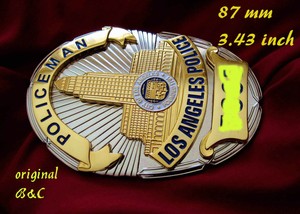 ---
Bellingham & Carrington

Historisches Sammelabzeichen

USA Polizeiabzeichen / US Police Badge

Policeman

Los Angeles Police Department

Gewicht > 148 Gramm;      Größe > 88 mm x 61 mm  /  FULL SIZE!!!

Number on the badge may differend / Nummer auf dem Abzeichen kann abweichen

auction is without badgeholder / badgeholder extra + 15 €

Auktion ist ohne badgeholder / falls gewünscht + 15 €

Das Abzeichen ist bereits über 20 Jahre alt und hat keine Gültigkeit mehr. Es wird zur Vervollständigung einer Sammlung angeboten.

Es entspricht den - Sicherheitsrichtlinien.

Bei jedem weiteren Abzeichen, das ersteigert wird, erfolgt ein Versandaufschlag von nur 0,50 Euro.

Bei Unklarheiten, bitte kurze Email, die ich gerne beantworte!

Es handelt sich um einen Privatverkauf, daher keine Garantie oder Rücknahme. Mit der Gebotsabgabe wird diese Abmachung bestärigt.

Outside from Germany I send only as a registered letter (with tracking).

Auch im Inland nur noch als Einwurf-Einschreiben!

If the shipment does not arrive, I will refund the full purchase price.